INSTITUT SUPERIEUR D'ANTHROPOLOGIE
INSTITUTE OF ANTHROPOLOGY
ONLINE COURSES / COURS A DISTANCE
SPRING TERM : APRIL 2015
REGISTER NOW
GRECE –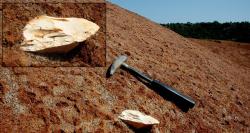 Kokkinopilos - Greece has long been known as a bastion of research into a civilization that gave birth to democracy 2,500 years ago. Now, the country appears poised to become a key player in the study of European Neandertals and ancient human groups that entered Southeast Europe from Homo sapiens' African birthplace. New geological evidence from a Greek archaeological site indicates that hand axes and other stone artifacts previously unearthed from one soil layer date to about 206,000 years ago, says geoarchaeologist Vangelis Tourloukis of Eberhard Karls Universitӓt Tübingen in Germany.
https://www.sciencenews.org/article/ancient-hominids-moved-greece-about-206000-years-ago?mode=topic&context=49
UAE –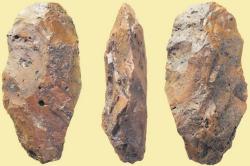 Al Dhaid - Stone axes, scrapers and awls thought to date back hundreds of thousands of years have been unearthed at a newly discovered archaeological site in Al Dhaid. A team of archaeologists from the Department of Antiquities and Tubingen University in Germany found a large quantity of stone tools at the site in the central region of Sharjah. Dr Sabah Jassim, head of the local archaeological team, said the items were believed to be between 200,000 and 500,000 years old. They are being analysed to determine their exact age. "We have sent several items, including axes and scrapers, to Germany for further analysis, said Dr Jassim. "The discovery of these tools will add valuable information to our records about the Stone Age in the emirate, and the early history of human groups and their predecessors in this region." Awls were used to puncture the leather of animal hides, while scrapers were used to clean the leather by scraping away the meat and fur. Several excavations have been carried out in Sharjah at Al Dhaid, Al Madam and Al Faya in recent years. Objects unearthed in these locations were similar to those found at the new site. Last year the DoA discovered anvils, hammers, pottery and the remains of smelting and copper workshops dating back to between 500,000 and 1 million years ago. Human skeletons were found in a mass grave containing pottery, glazed jars, weapons and burial gifts, as well as a rare collection of glass bottles.
http://www.thenational.ae/uae/heritage/another-ancient-sharjah-site-found-by-archaeologists?
VIET NAM –
 Trien Tranh - Archaeologists said they have discovered Cham relics and structures dating back to the 9th century during site clearance work for a highway project in the central province of Quang Nam.  Dr. Le Dinh Phung, a senior official of the Institute of Archaeology, said they have unearthed 20 pits along the construction site of Da Nang-Quang Ngai Highway since January this year. The unearthed site covers an area of 2,000 square meters. A number of structures have been found, including a 60-meter-long wall system and box-like structures believed to be rooms in which Brahman monks gathered to pray and perform religious rituals.  Archaeologists also discovered bricks, tiles, Cham terra-cotta relics and ceramic items of various origins.  They have named the area Trien Tranh. Excavation work in the area will continue on more than 1,000 square meters in the coming time.  They said the discovery of the Trien Tranh area will shed some light on the Cham historical and cultural issues they are researching on.
http://www.thanhniennews.com/arts-culture/archaeologists-discover-cham-relics-prayer-rooms-at-construction-site-in-vietnam-40498.html
ROYAUME UNI –
 Norwich - Fresh light could be shed on a lost 16th century palace which once graced the centre of Norwich, when archaeologists get a rare chance to dig in the heart of the city. That palace, believed to have been built in 1561, included courtyards, a fountain, a tower, a bowling alley and covered tennis courts. It almost certainly occupied the land where St Andrews Car Park now stands. It was extensively rebuilt and remodelled in 1671, but in 1711, a mere forty years later, demolition work had started. That was possibly because of subsidence caused by flooding, but some historians have suggested it was because of a row between the Duke of Norfolk and the Mayor of Norwich. Following the demolition, part of the palace's former bowling alley became a workhouse, while the Duke's Palace Inn - a pub - was created. That was demolished in 1974.
http://www.eveningnews24.co.uk/news/dig_could_reveal_secrets_of_norwich_s_lost_16th_century_palace_1_4015633
INDE – Mauxi -  Two more engravings of wild bulls on basalt rock have come to light in the Zarme tributary of River Mhadei at Mauxi, Sattari. These engravings are below the 'bullfight' that was part of the rich rock art heritage discovered in the area on August 10, 1999. The new findings are thanks to the lower part of the rock getting exposed due to suspected sand excavation in the rivulet.The engravings on basalt rock boulders spotted earlier include a bull with straight and vertical horns, with a rounded hump; it shows the use of the bruising technique (chipping off the weathered rock surface to create a two-dimensional picture by changing the rock surface). On another rock is a deer with linear, elongated body and legs shown separately in lines, with a raised head and short raised tail. In front of it is found a deeply engraved trishul with a gentle curve at the bottom. An antelope engraved on another rock shows the dotting technique.On a boulder in the middle of the rivulet, local youngsters and members of the Mandal had discovered rock engravings of a bullfight scene. They had also spotted engravings of a cup mark and of a human foot. In the vicinity is another rock on which is engraved a small bull within the body of another bull.Well-known archaeologist M Nambirajan, in his book 'Coastal Archaeology of Western India', published in 2007, notes, "Engravings and bruises in Mauxi of animals and a trishul may be of the Megalithic phase, probably datable to C 1000 BC." Heritage lovers add that Mauxi's rock art heritage reflects the artistic, cognitive and cultural aspects of the humans who lived in the area.
http://timesofindia.indiatimes.com/city/goa/2-more-bulls-show-up-on-Mauxis-rock/articleshow/46751213.cms
ROYAUME UNI –
 Nottingham - A one thousand year old Anglo-Saxon remedy for eye infections which originates from a manuscript in the British Library has been found to kill the modern-day superbug MRSA in an unusual research collaboration at The University of Nottingham. Dr Christina Lee, an Anglo-Saxon expert from the School of English has enlisted the help of microbiologists from University's Centre for Biomolecular Sciences to recreate a 10th century potion for eye infections from Bald's Leechbook an Old English leatherbound volume in the British Library, to see if it really works as an antibacterial remedy. The Leechbook is widely thought of as one of the earliest known medical textbooks and contains Anglo-Saxon medical advice and recipes for medicines, salves and treatments. Early results on the 'potion', tested in vitro at Nottingham and backed up by mouse model tests at a university in the United States, are, in the words of the US collaborator, "astonishing". The solution has had remarkable effects on Methicillin-resistant Staphylococcus aureus (MRSA) which is one of the most antibiotic-resistant bugs costing modern health services billions. 
VIDEO=http://www.nottingham.ac.uk/news/pressreleases/2015/march/ancientbiotics---a-medieval-remedy-for-modern-day-superbugs.aspx
ROYAUME UNI –
 Penrith - Tests could soon reveal the age of an elephant's tooth that was excavated at Penrith Castle almost a century ago. First found in the moat bottom below the north east of the castle in 1921, the tooth has only ever been viewed as a curiosity, and not as an artefact of historical significance. But now, curator Dr Sydney Chapman believes dating it could provide evidence of the Castle's history, including what kind of people once lived there. "A medieval date might suggest an object once owned by a person of high status associated with the Castle, and we anticipate Richard, Duke of Gloucester being proposed as a candidate if the date fits. The Middle Ages saw a cult of relics and fabulous objects with which archaeologists recently linked the finding of an elephant's bone in Chester. A more modern date, however, is likely to result in more mundane solutions, a link with a travelling circus being high on the list".
http://www.itv.com/news/border/update/2015-03-31/the-mystery-of-penriths-elephant-to-be-revealed/?
BULGARIE -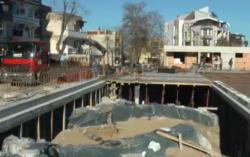 Sozopol - An Ancient Roman residential building has been discovered in the Bulgarian Black Sea resort town of Sozopol during the construction of the parking lot of a new stadium. The Roman villa in question has been dated back to the 3rd-4th century AD, reports local news site Zona Burgas. The local authorities have decided to have it excavated and conserved, and to exhbit it in situ as part of the new stadium complex in Sozopol, which was known under its Ancient Greek colony name of Apollonia in Roman and Byzantine times (in honor of Ancient Greek god Apollo), and as Apollonia Magna at its height during the Antiquity period.
http://archaeologyinbulgaria.com/2015/03/31/ancient-roman-villa-discovered-during-stadium-construction-in-bulgarias-sozopol/