01-03 NOVEMBRE 2014 NEWS: Hisarya - Shoranur - Northampton - Marlow - Rathfarnham - Vespasian's Camp - Con Moong - Grenade
01-03 NOVEMBRE 2014 NEWS: Hisarya - Shoranur - Northampton - Marlow - Rathfarnham - Vespasian's Camp - Con Moong - Grenade
INSTITUT SUPERIEUR D'ANTHROPOLOGIE
INSTITUTE OF ANTHROPOLOGY
ONLINE COURSES / COURS A DISTANCE
WINTER TERM : JANUARY 2015
REGISTER NOW
BULGARIE –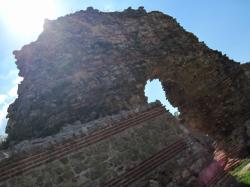 Hisarya - Archaeologists from Hisarya Archaeological Museum unearthed a lion's head, a consecrated tablet with nymphs and a part of a life size statue, reports Dnes.bg. According to the director of the town museum, Mitko Madzharov, the artifacts were dated end of II and beginning of III c. AD and prove that the settlement existed before the rule of the Roman emperor Diocletian. "The nymphs are depicted in the traditional Roman manner – naked, two facing the viewer and one with her back, holding each other," Madzharov said. "Their hair is lifted up in buns. The lion's head was part of a fountain – the head is well shaped and has a hole in the mouth, through which flowed the mineral water." According to the Hisarya Mayor Penka Ganeva, whose administration sponsors the excavations, the new discoveries prove that the Roman baths may have existed before the town was settled as such. The next archaeological season will uncover the plumbing system of the Roman baths, under which still flows hot mineral water.
http://www.novinite.com/articles/164481/Archaeologists+Unearth+Lion%27s+Head%2C+Tablet+With+Nymphs+In+Hisarya
INDE –
 Shoranur - A set of copper plates with inscriptions in a dialect of Malayalam, which prevailed in central Kerala about 775 years ago, were handed over to the State Archaeological Department by the inheritors of the Chazhoor Kovilakom at Shoranur, near here, recently. Known in archaeological and lexical studies as Cheppedu, these copper plates represent a year in which Malayalam emerged independent of Tamil and Sanskrit. Most of the words inscribed on the cheppedus are still in currency in Palakkad, Thrissur, and Malappuram districts. The plates were in custody of the Kovilakom for centuries as they contained details of the land owned by the family. The plates, each 14-inch long and with a width of two inches, together weighed around two kg. The plates state that the Kovilakom was an extended agrarian family that received 4,300 tonnes of rice as dues from its tenants annually. It was linguist K.P. Narayana Pisharody who translated the cheppedus from the old Malayalam of 'vattezhuthu' to the present language.
http://www.thehindu.com/news/national/kerala/shedding-light-on-a-local-dialect/article6557250.ec
ROYAUME UNI –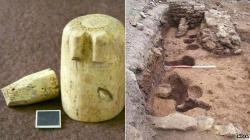 Northampton - Archaeologists have found two Medieval horn and antler chess pieces during the final stages of a dig in Northampton town centre. The excavation is at St John's Street, at the location of Northamptonshire County Council's new headquarters. Archaeologist Jim Brown said the pieces were "clear evidence" of demand for a "leisure product" in middle to late 12th Century Northampton. The dig has now been completed and the finds will eventually go on display. The larger piece was probably intended to be a bishop and is 60mm (2.3in) high, while the second piece was the top part of a king and is about 30mm (1.2in) high. Mr Brown, from the Museum of London Archaeology, said the chess pieces were found among bone and horn off-cuts, and appear to been discarded during their manufacture. He said: "They provide us with clear evidence of horn and bone working in the town, making something which is effectively a leisure product. "It took quite a lot of effort to hand carve and finish these kind of things, so it's going to be something that you're paying the craftsman for. "It's almost certain we will publish something about this material as it's of interest to researchers looking into history of board games." The dig has previously uncovered malting ovens, fragments of cloth and a bread oven.
http://www.bbc.co.uk/news/uk-england-northamptonshire-29833867
ROYAUME UNI –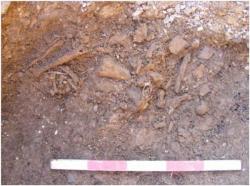 Marlow - An archaeological discovery at the back of an antique shop has revealed that a South Bucks town could be as many as 4500 years old. History group Archaeology in Marlow has been keeping tabs on a dig carried out on Marlow High Street which has thrown up some startling results including Bronze Age pottery. But enthusiasts are most excited by new data which suggests two skeletons found in the pit date back to around 2030 BC – more than 3000 years before the first recorded mention of Marlow in the history books. An area of approximately 200 sq.m. was opened up within which a pit dating to the mid 12th century contained a pile of approximately 250 re-deposited bones from a much earlier date. Among the remains was a piece of Bronze Age beaker pottery, which was probably from a pot buried with the bones, as well as medieval finds from the 12th-14th centuries. The two skeletons found in the hole were children around 10-12 years old, which experts thought might have been buried in the 12th century as part of a burial mound on the site. But after sending the remains to the USA to be radiocarbon dated, archaeologists were shocked to discover the skeletons went back a lot further than first thought.
http://www.bucksfreepress.co.uk/news/localnews/marlow/11573129.Astonishing_find_at_archaeological_dig_dates_Marlow_back_4500_years/
IRLANDE –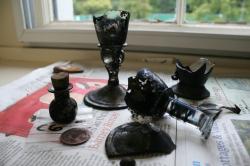 Rathfarnham - A near perfect hoard of 17th century artefacts has been discovered in an underground lair of Rathfarnham Castle, revealing intimate details of the lives of the family who lived there and wider Irish society during that period. The hoard was discovered about a month ago by construction workers installing a lift shaft at the castle. It was found in a sealed lair between two stone floors at the bottom of one of the castle towers. Among the items discovered was a foldable toothbrush, clay pipes, jewellery, porcelain, coins, chamber pots, crystal goblets, as well as wine bottles and ointment jars with as of yet unknown liquids inside. It has been said Oliver Cromwell and his men held council at Rathfarnham Castle as they besieged Ireland, and the discovery of a Cromwellian armour breastplate with a musket-hole through it "ties in with that", said Ms MacGowan. The castle was built in 1583 by Lord Adam Loftus who was Archbishop of Dublin. The materials discovered are dated the mid to late 17th century and belonged to his descendants. The castle was originally fortified and as it lies on the outskirts of Dublin it would have been subject to attack on several occasions. A selection of musket balls and lead was also discovered. Remarkably, the organic remains of foodstuffs including cherry pips, apricots, crumbs, peaches, and tea leaves were also preserved. "Tea was only introduced in England in 1650," said Ms MacGowan. "They correspond with the porcelain tea sets imported from China. The family were importing high luxury goods from all over the world, which shows Ireland wasn't as cut off and unfashionable as we might think."
VIDEO = http://www.irishtimes.com/culture/heritage/hoard-of-17th-century-artefacts-found-at-rathfarnham-castle-1.1982372
ROYAUME UNI - Vespasian's Camp - Pre-history may have to be re-written following a recent dig by university students near Stonehenge. Signs of human habitation 8,000 years ago have been discovered by Archaeology MA students from the University of Buckingham, led by senior research fellow David Jacques. Mr Jacques said: "This year we've found burnt flint – a sign that people had made fires, so were in the area, around 8,000 years ago. "The finds will have to be carbon-dated to get a precise date.The archaeologist has just completed a two-week dig at Vespasian's Camp, a mile from Stonehenge, at which MA students and University of Buckingham staff worked as volunteers, sifting through remains.
http://www.buckinghamtoday.co.uk/news/more-news/groundbreaking-finds-by-stonehenge-team-1-6390477
VIET NAM –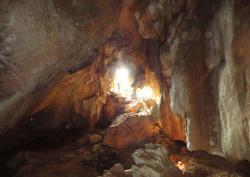 Con Moong- Excavation findings of the Con Moong 'beast' cave in central province of Thanh Hoa were announced at an international workshop on Thursday, Vietnam New Agency (VNA) reported. The Vietnam Archaeology Institute said the Con Moong Cave located in Thach Thanh district was discovered in 1975 and excavated in the following years. The cave contains traces of culture from the Palaeolithic era (old stone age) to the late Neolithic era (new stone age). Last year, scientists found working tools, animal bones and mollusc shells in ten different layers of soil. Con Moong Cave boasts one of the thickest cultural layers in Southeast Asia, indicating the constant development of human beings throughout the centuries. The Archaeology Institute will continue to work with local authorities to conduct more research on the cave.
http://www.bernama.com.my/bernama/v7/wn/newsworld.php?id=1081104
ESPAGNE –
 – Grenade - Archeologists will start inspecting land in southern Spain near where the acclaimed poet Federico Garcia Lorca is believed to have been executed and buried at the start of the Spanish Civil War in 1936, officials said Friday.Soundings will begin on Nov. 17 in a 300-square meter (360-square yard) hillside close to the southern city of Granada, Luis Naranjo of the southern regional government of Andalusia said.A two-month, high-profile dig in another area nearby in 2009 yielded no results. Lorca, one of Spain's most renowned 20th-century poets, was among tens of thousands of civilians executed by militias loyal to late dictator Gen. Francisco Franco, and who were buried in unmarked mass graves. The search for his grave remains one of the greatest mysteries of the 1936-1939 war, which was started when Franco rose up against Spain's elected leftist Republican government.
http://news.yahoo.com/search-may-locate-grave-spanish-poet-lorca-141556841.html