INSTITUT SUPERIEUR D'ANTHROPOLOGIE
INSTITUTE OF ANTHROPOLOGY
ONLINE COURSES / COURS A DISTANCE
FALL TERM : OCTOBER 2015
REGISTER NOW
ROYAUME UNI –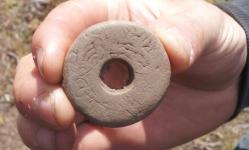 Glenshee - Archaeologists delving into Perthshire's history believe they have discovered a rare object which could shed new light on a long-lost way of life. The exciting find was made by Diana McIntyre from Ladybank, Fife, while with Glenshee Archaeology Project digging a Viking-age longhouse at Lair in Glenshee. The small circular stone, with a central hole, is thought to be a spindle whorl, a weight fitted to a spindle while hand spinning textiles to increase and maintain the speed of the spin. The stone, which is only around 5cm in diameter, has been carefully shaped to be symmetrical, but what has interested the team are the symbols and designs carved onto one surface. David Strachan of Perth and Kinross Heritage Trust explained the possible significance of the find. "Through the ages spindle whorls have often been decorated – and the spinning action would bring life to these shapes, much like the old spinning top toy," he said. "While we certainly have abstract shapes on this example, some of the symbols look like they could be writing, perhaps Viking runes or Ogham inscription, a form of early medieval Irish script." The team are awaiting experts to carefully study the find to confirm the nature of the symbols but, whether Viking runes or Ogham inscriptions, they know it is really rare. "The only other known spindle whorl with an Ogham inscription is the Buckquoy spindle whorl, probably 8th Century in date, that was found in 1970 in Birsay in Orkney," said Mr Strachan. "That date is in keeping with the radio carbon dates we have for the turf and stone longhouses on the site.
http://www.thecourier.co.uk/news/local/perth-kinross/cryptic-symbols-may-hold-key-to-glenshee-s-viking-age-past-1.886742
ROYAUME UNI –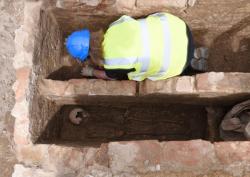 Norwich - Human remains, coins, pottery, oyster shells, animal bones and painted glass have all been discovered by archaeologists working at St Anne's Wharf - once the site of the 13th century Austin Friars Priory. The excavations, now in their fifth week, are due to last for 18 weeks and have already resulted in a number of important discoveries. Andy Shelley, principal archaeologist for contractors Ramboll, said: "It's about preserving by recording and excavation. It's a vast site and our primary aim is to preserve it in situ. "The context is what we have known for years - that this is the site of the Austin Priory. It has extremely well preserved remains from when it was in use from about 1290 to 1538. "Before the friary, this was marshland. They didn't have a lot of choice but to set up outside what was the Saxon town and were given the land by rich benefactors in return for praying for their souls. "They started off as a reaction to what was seen as the wealth of the church - living in poverty and chastity and taking the message to the people of Norwich, but they soon ended up becoming wealthy themselves." Mr Shelley said the team had hoped to find the east end of the great friary church and appeared to have succeeded, with the discovery of flint and mortar walls. Human remains have been found in a tomb in that church. The skeleton, which is either an elderly person or a child, probably dates from the 14th century. With people buried inside such churches generally being wealthy, Mr Shelley said such finds could shed light on the diet and health of those connected to the friary. One find is likely to be declared as treasure trove - a silver gilded dress fastener which is at least 300 years old, while other discoveries included oyster shells and animal bones, which helps shed light on what was eaten at the friary.
http://www.edp24.co.uk/news/dig_sheds_new_light_on_norwich_s_medieval_past_1_4127016
IRAN –
Oramanat - Latest archeological findings in Oramanat, west of Iran, suggest that human settlement in the region goes back to 40,000 years ago. Director general of Kermanshah Cultural Heritage, Handicrafts and Tourism Department said excavations in the vicinity of Darian Dam in Paveh, Kermanshah province by a team of archeologists led to findings which indicated that the human life in the region dates back to 40,000 years. Ali Felegari added that the excavation team was headed by Dr. Sonia Shidrang from Bordeaux University. He also said the excavations have been completed in the first site, adding the archeological team is conducting feasibility studies in a shelter cave near Hajij Village. In related news, the head of Paveh Cultural Heritage, Handicrafts and Tourism Department said the findings provide evidence that the Oramanat region has a long historical record. Hadi Sharifi added that prior to these findings, the oldest antiques found in the region were those from the Assyrian era. Located between the provinces of Kurdestan and Kermanshah, Oramanat is a mountainous region which includes the cities of Paveh and Marivan.
http://www.iran-daily.com/News/120903.html
Iran –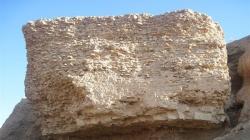 Asker Mokrem - Asker Mokrem is the oldest Islamic city located between two local rivers of Shushtar and Mosraghan. It is situated in the city of Bawi, Khuzestan province. Askar Mokrem is of great historical importance. Now, its ruins have been divided by Gorgor River in the northeastern part of Band-e Qir Village, 35km off Shushtar. The trespassing by local farmer was reported by Khuzestan Cultural Heritage Enthusiasts Society (Taryana) to authorities, who promised immediate action. Taryana spokesman Mojtaba Gahestouni said the part of the ancient city which was subject to intrusion is in Jalieh Village. He explained that the site was officially registered in 1931. However, no archeological explorations have been conducted in the site yet, he added. Demarcation of the ancient city will largely prevent further damages to the site, he added. Asker Mokrem city was the hub of sugarcane cultivation in olden times. Its inhabitants used to make textiles from raw silk and meet the demands for sugar in Muslim nations as far away as Egypt.