INSTITUT SUPERIEUR D'ANTHROPOLOGIE
INSTITUTE OF ANTHROPOLOGY
ONLINE COURSES / COURS A DISTANCE
SUMMER TERM : JULY 2014
REGISTER NOW
INDE –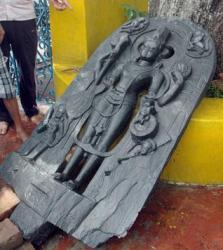 Beldanga - A stone idol of Lord Vishnu resembling the idols of Pala and Sen period was recovered from Beldanga in the State's Murshidabad district on Saturday. Locals who were digging up in a field for construction of a toilet at Kapasdanga village under the Beldanga police station found the idol buried. The idol which is about 4.5 feet high and 2.7 feet wide is carved out of chloride schist, a metamorphic rock. The idol has been kept at a local police station. Though a detailed analysis of the idol is yet to be done, Amal Ray, deputy director Directorate of Archaeology & Museums, West Bengal government told The Hindu that preliminary examination of the idol suggests that it is an imitation of a Pala idol. He said a number of such idols from the Pala period have been found in Murshidabad dating 11th to 12th century AD in the district. "This idol appears to be crafted by an artisan in the late medieval period after 15 the century AD," Mr. Ray said, adding that it might have been used for religious purposes.
http://www.thehindu.com/news/national/other-states/pala-period-vishnu-idol-unearthed/article6115177.ece?utm_source=RSS_Feed&utm_medium=RSS&utm_campaign=RSS_Syndication
PAKISTAN –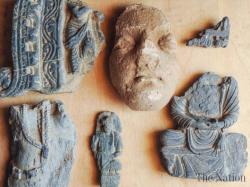 Mian Khan - Abdul Wali Khan University Mardan Archaeology Department has discovered a 1,000-year-old village at Mian Khan area of tehsil Katlang, Mardan.the staff of AWKU started archaeological excavations on May 2, 2014 at the site of Koi Tangay Kandaray located at the Mian Khan Village of Tehsil Katlang, Mardan under the supervision of Prof Dr Ihsan Ali. The Mian Khan village itself is very well known to the world in terms of archaeological and historical importance. In 1962, late Prof Ahmad Hasan Dani's excavation at Sanghao Cave which is located in the Mian Khan Village revealed the earliest evidence of mankind in the whole Khybar Pakhtunkhwa province dating back to 40,000 years before present. "It means that this village is the oldest in the whole province," Abid-ur-Rehman told. "So keeping in view the historical importance of the area, we started excavations and in our one and half month progress reached up to Indo-Greeks level (190 BC)," he added.Abid-ur-Rehman said that the chronology we developed so far is Mughal on top followed by Hindu Shahi's then Sythians, Kushans and lastly the Indo-Greeks where Demetrious coin was found. Among recovered antiquities a total of 243 coins, stucco Buddha head, stucco panel pieces, headless sculpture, pieces of stone panels, ear ring, finger ring, potsherds, bones and iron objects found. The chemical analysis of all coins and other metal objects are under examinations of the department of Chemistry, AWKUM. This process will allow us at one side to shape the final report of this excavations and another side this will open new ways for researchers to look into the material evidence and evaluate the past. This excavation will continue for couple of months.
http://www.nation.com.pk/national/14-Jun-2014/1-000-year-old-village-discovered-in-mardan
ROYAUME UNI –
 Barcombe Mills - Following on from the brilliant success of the 2013 excavations, the Culver Archaeological Project is once again running a six-week summer excavation at the Roman-British settlement at Bridge Farm near Barcombe Mills. This summer the team is targeting one particularly interesting area with a trench 32m x 21m metres, some 670sq metres (red box on 40m square image) which from the recent geophys results looks positively packed with features. There appears to be a metre wide ditch running down the entire trench with two parallel rows of postholes to the right of it plus some larger individual pits. The rectangular configuration of the 13 postholes strongly suggests that they are looking at the foundations of a large post-built building approaching 20 metres long (66 feet). David Millum, a director of the Culver Archaeological Project, said: "The postholes plus the pits and the long trench will give plenty to investigate for all who participate. CAP hope the finds will rival last year where virtually everyone had artefacts in their trays and a feature under their trowel as well as interest for those who chose to process the finds rather than kneel in the trench.
http://www.sussexexpress.co.uk/news/local/summer-search-for-treasures-at-romano-british-settlement-at-barcombe-mills-1-6116287
CHINE -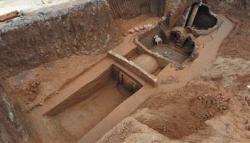 Pizhou- Archaeologists have discovered more than 100 Eastern Han Dynasty (24-220 AD) tombs in east China's Jiangsu Province. The graves in Pizhou City are mostly two meters long and a meter wide, They lie under a large pool and were found when the pool was drained, Ma Yongqiang, a researcher with the Institute of Archaeology of Nanjing Museum told Xinhua on Saturday. Such a large cluster of Han tombs are a rare discovery and valuable for studies on funeral customs of the time. The tombs were buried only 20 to 30 centimeters beneath the earth and about two dozens have been plundered.
http://www.shanghaidaily.com/article/article_xinhua.aspx?id=224375
ROYAUME UNI - Horseshoe  - The 18th century will meet the 21st in an archaeological excavation at the House in the Horseshoe State Historic Site near Sanford, starting June 16. A team led by the UNC-Greensboro Geography Department in cooperation with the N.C. Office of State Archaeology (OSA) will employ ground penetrating radar and an unmanned aerial device, i.e., drone, to examine the area. It is the first use of a drone for research at a state historic site. Images obtained from ground penetrating radar and a magnetic gradiometer already have indicated that several below ground structures may be present at the circa 1770 Philip Alston House. These subsurface features may represent bricks and field stones that formed the foundation of a colonial era kitchen and privies. The drone will enhance aerial views of the landscape and all of the nuances that are visible from above to aid in focusing additional exploration of the area. The research will allow officials to more accurately interpret the house through better understanding of the landscape and surroundings. Whether a privy or other outbuildings are discovered will only become clear after excavations are completed. In 1781, a band of British loyalists led by David Fanning attacked the House in the Horseshoe, home to colonial leader Phillip Alston. Alston and the colonists seeking independence were forced to surrender, but the bullet holes from the fierce and fiery battle remain in the house today.
http://www.sanfordherald.com/features/x805527417/High-tech-tools-aiding-archaeology-at-House-in-the-Horseshoe-excavation
ROYAUME UNI –
 Mitford Churchyard - Whilst working in Mitford Churchyard, a grave digger from Rothbury discovered part of a broken polished stone axe from the Neolithic period (between 4,000 and 2,200 BC). It is made from what archaeologists call Group VI Langdale greenstone – a fine grained volcanic tuff.The find has been examined by Mitford resident Frank Robinson, who is a member of the Morpeth Antiquarian Society. He said: "Not all axes found show signs of use – there may have been an element of status in owning a polished green axe. "Over centuries, these axes were passed on by traders or given as a sign of loyalty or as family heirlooms and stories of their origin would be embellished. "How this broken part of an axe came to be in our Churchyard, we will never know. "It could have been deliberately broken as part of a ceremony or it may have been found during the building and re-building of Mitford Church to be thrown away unrecognised. It may have been found elsewhere and dropped near the church."
http://www.morpethherald.co.uk/news/local-news/grave-digger-finds-ancient-axe-in-village-churchyard-1-6669582
USA - Murphysboro - Archaeologists digging at a southern Illinois airport have uncovered Native American artifacts dating back to 1,000 years ago. Crews with the Illinois State Archaeological Survey discovered five house plots from the Mississippian Era at the Southern Illinois Airport in Murphysboro. The dig also uncovered a stone ax that is thousands of years older than the plots. It would have been used to cut trees and wood. The Southern Illinoisan reported on Friday that the archaeological excavation was required before the airport could be expanded.
http://www.nbcchicago.com/news/local/Archaeologists-Find-Artifacts-at-Illinois-Airport--263155861.html?