INSTITUT SUPERIEUR D'ANTHROPOLOGIE
INSTITUTE OF ANTHROPOLOGY
ONLINE COURSES / COURS A DISTANCE
SPRING TERM : APRIL 2015
REGISTER NOW
INDE –
  Thrissur - A team of historians and archaeologists have unearthed a pair of stone axes from the bed of the Chalakudy river in Thrissur district, supporting the evidence of Neolithic culture in the region. The team led by historian M.G. Sasibhooshan discovered the axes (Neolithic Celts) last year during an archaeological exploration near the location where the river changes course at Kondozhinjaar and Vynthala. Dr. Sasibhooshan, who is a member of the Indian Archaeology Society, said the polished granite implements were typical of the Neolithic culture representing the period from 5,000 BC to 1,500 BC. According to him, it is the first time a stone axe has been discovered from the Chalakudy river. The axes are 11.5 cm and 9 cm long and measure 6.4 cm and 4.8 cm at the working edge respectively. The larger axe is greyish in colour and has a scooped out portion on the blade to prevent the handle from slipping. The smaller one is made of light green granite. Earlier, 43 stone axes were discovered from the Kottamam thodu, a tributary of the Periyar. The Celts unearthed from the Chalakudy river provide supporting evidence of Neolithic culture in the region, Dr. Sasibhooshan said. The team included local historians T.N. Prakasan and Sunil Vilvamangalam. The two stone axes have been added to Dr. Sasibhooshan's private collection.
http://www.thehindu.com/todays-paper/tp-national/neolithic-axes-recovered-from-riverbed/article6935241.ece
IRLANDE –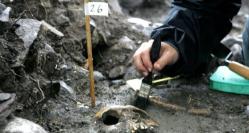 Sligo - "Citizen" archaeologists are to be recruited in a pilot project which aims to protect vulnerable coastal heritage from being lost to winter storms and climate change. Recent discoveries of Spanish Armada timbers off Streedagh, Co Sligo, and ancient drowned forests in Connemara demonstrate the value of community action, according to archaeology lecturer Dr James Bonsall of the Institute of Technology (IT) Sligo. The battering of the west coast last winter and this winter's tides have exposed many artefacts at an overwhelming rate and at a time of scarce State resources to record and respond,he said. Just days after the Armada timbers were exposed by severely low tides in Sligo – the lowest tidal range in 18 years – timbers from a large ship were also found off Lissadell. Students and staff from IT Sligo have been involved in several other recent discoveries, including a peat shelf formed from drowned forests at Ardtarmon strand, Co Sligo, which could date back to the Iron Age or earlier. "Boulder-size" pieces of the peat have been eroded and rolled by waves into large balls, and the shelf is exposed for some 124 metres along the strand, according to Dr Bonsall. His colleague Dr Fiona Beglane has been monitoring the rate of erosion at Staad medieval church near Grange, where more than 10 metres of land has been taken by the sea in the last century. The Atlantic is now less than four metres from the building, and archaeology is "being washed into the sea with every high tide", said Dr Beglane. She forecasts the church itself could be lost within a decade. She is due to speak at a conference on "weather-beaten archaeology" hosted by IT Sligo on Saturday, which aims to initiate a new project involving the community. Birdwatchers, dog walkers, beach combers and coastal surveyors are to be recruited for the "Monitoring archaeology on Sligo's coastline" (MASC) initiative, which aims to help record vulnerable artefacts. "People are often not sure of what they've found, and the idea is to raise awareness and to ensure that anything valuable is recorded and is preserved as quickly as possible," said Dr Bonsall.
http://www.irishtimes.com/news/ireland/irish-news/citizen-archaeologists-to-be-recruited-after-spanish-armada-finds-1.2126512
INDE - Tarn Taran  - Punjab archaeology department officials had to return empty-handed as the Tarn Taran villagers refused to part with the 7th-century idol of Lord Vishnu found from a field recently. Department officials said they would take the police help to lay hands on the idol. While levelling his field at Algon Kothi village in Bhikhiwind town of Tarn Taran district on February 14, a farmer had found the idol, about 4 ft in height and weighing around four quintals. The idol apparently dates back to seventh or eighth century. The idol was placed at Mata Sunita Devi temple at Dall village near the Indo-Pak border at Patti.
http://www.hindustantimes.com/chandigarh/tarn-taran-villagers-refuse-to-hand-over-ancient-idol-to-archaeology-officials/article1-1323280.aspx
USA –
 Eagleville – A small group of Native Americans had established a temporary camp in Eagleville. The remains of that camp were uncovered last summer by MTSU professor Tanya Peres and her archaeological field school for MTSU students at the Magnolia Valley equestrian farm in Eagleville. On Saturday, Peres spoke about two distinct findings at the site. The first was an earth oven. She explained an earth oven is a hole lined with rocks in which additional heated rocks are placed to indirectly cook food. "This is pretty great," she said, adding the oven was about two feet across and filled with charcoal and other debris left by the cooking process. The presence of an earth oven is evidence Native Americans did more than just hunt in Rutherford County, she said. To top that, the oven was located next to what Peres thinks was a dugout house. "In the Archiac, some kind of tent structure would cover the hole," she said, adding the home was temporary and easily movable. Peres said evidence from the two features was dated to 5,300 years ago, placing them squarely in the Archiac period. During this era, Native Americans travelled in small groups and set up seasonal camps along streams, springs and larger waterways, Peres explained. She also uncovered evidence that Native Americans lived at the site as recently as AD 1200. But it was just in one spot and more investigation is needed to figure out how extensive the occupation was, she said.
http://www.dnj.com/story/news/2015/03/04/native-american-artifacts-found-eagleville/24368967/
TURQUIE –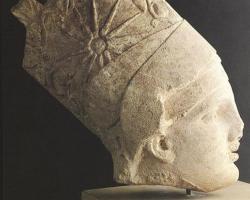 Arsemia - Video footage, coincidentally found by a Turkish collector in a German flea market, which shows excavations on Mount Nemrut in 1965, as well as the life of locals in the region, has revealed a big scandal. The sculpted head of the King of Commagene, King Antiochus, which is now at the Gaziantep Zeugma Museum, was seized while being smuggled abroad by a German. The footage, shot by German traveler Dr. Lothar Carlowitz, show the Nemrut ruins and excavations at the ancient city of Arsemia in the eastern province of Adıyaman. It is seen in the footage when the sculpture of Antiochus was discovered underground for the first time. The sculpture was cleaned and covered with a piece of cloth. 
http://www.hurriyetdailynews.com/mystery-of-antiochus-head-still-unsolved-.aspx?pageID=238&nID=79196&NewsCatID=375
GRECE –
 Vergina - Clay figurines and other important findings were unearthed by archaeologists in the Tsakiridis section in the center of the ancient Greek city Aegae in Vergina, northern Greece. The artifacts were presented as part of the Archaeological Conference on the 2014 excavations in Macedonia and Thrace, which takes place at Aristotle University of Thessaloniki. According to the archaeological team statement, excavations in the Tsakiridis sector begun in 2005-2006 and since then they take place in small time periods, with little financial means. "During the short excavation periods we have come across several interesting findings from the city's late Hellenistic and Roman era," noted the archaeologists. Twenty-one graves were found in the necropolis of Aegae, six of which had not been looted. One of the most impressive findings in the necropolis was a beautiful mirror, which was found in the tomb of a young girl (4th century BC). Her parents had buried her along with gold ornaments, earrings and beads, and a small, bronze masterpiece, a mirror with Eros and Dionysus carved on the lid. Eros (Cupid) is depicted as a young child that flies to embrace the ancient Greek god of lust and passion (Dionysus). The richest tomb in the necropolis which had unfortunately been looted contained fragments from a funerary bed which was decorated with clay carved plaques, depicting the ancient Greek goddess Athena watching a battle between Greeks and barbarians.
http://greece.greekreporter.com/2015/03/05/new-archaeological-findings-in-vergina-northern-greece/?#sthash.Jc7ylgQl.dpuf