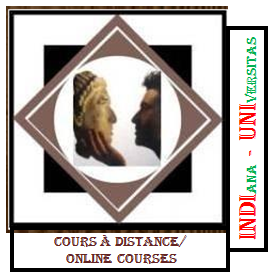 INSTITUT SUPERIEUR D 'ANTHROPOLOGIE
INSTITUTE OF ANTHROPOLOGY
ONLINE COURSES / COURS A DISTANCE
REGISTER NOW

FORMEZ VOUS A DISTANCE AU METIER DE VOS RÊVES , POUR VIVRE VOTRE PASSION.
COMMENCEZ VOTRE FORMATION DES AUJOURD'HUI
POUR SEULEMENT 100 EUROS PAR MOIS
OFFRE SPECIALE ETE 2022 : Frais de dossier gratuit pour toute inscription avant le 30 Juillet 2022
INSCRIPTIONS
- cours ARC 100: Introduction à l'Archéologie
- cours ANT 100: Introduction à l'Anthropologie Culturelle
(la validation de ces cours donnent accès à l'inscription pour un CSA /DSA en 2022)
- autres cours
Inscriptions

:

OFFRE SPECIALE ETE 22 : Frais de dossier gratuit pour toute inscription avant le 30 juillet 2022
LA UNE : 01/07/2022
REVUE DE PRESSE
Sterkfontein (Af. du Sud): Famous deposit 1 million years older than previously thought
Gongwangling (Chine): 1.63 million-year-old fossil may have been the first human (hominin) to inhabit China
Genetic intermixing in Indonesia contributed to cultural "explosion" across the Pacific
Sibudu Cave (South Africa): Prehistoric knife indicates early humans communicated
Tam Ngu Hao 2 (Laos) : What the Discovery of Denisovan Remains Means
Cueva de Ardales (Espagne): rock art cave was used by ancient humans for over 50,000 years
Early dogs may have doubled in size to protect livestock
Zhouyuan (Chine): woman faced brutal 'yue' punishment, had foot cut off
First Pompeiian human genome sequenced
ARCHEOLOGIE
Lycia-Pamphylia (Turquie): How the ancient world adapted to climate change
San Felice Circeo (Italie): Underwater jars reveal Roman period winemaking practices
Les Bagnoles (France): Neolithic Farmers against pests
Pacbitum (Belize): Trophies made from human skulls hint at regional conflicts around the time of Maya civilization's mysterious collapse
Gobekli Tepe (Turquie): hilltop where civilisation began
Girsu (Iraq): New discoveries upend story of Mesopotamia

Minoans' Sophisticated Diet Included Imported Spices From Asia
Montale (Italie): Industrial manufacturing of wool and wool textiles in the Bronze Age
Uncovering Medieval stories held in parchment
- Leicester (Angleterre): archaeologists expand excavations at Cathedral site
Cotoca (Bolivie): Early urbanism found in the Amazon
Ancient Maya tooth sealant glued gemstones in place—and may have prevented tooth decay
Famen (Chine): Analylis of ancient incense found at Royal Temple reflects importance of incense trade along the Silk Road
Hanjing (Chine): Rice cultivation recorded at a Neolithic site 8000 years ago
Where were Herod the Great's royal alabaster bathtubs quarried?
Dramatic events in demographics led to the spread of Uralic languages
Thera (Grece): Researchers home in on volcano eruption date