Ministry of Antiquities
Source - https://www.facebook.com/Ministry-of-Antiquities-336764893195328/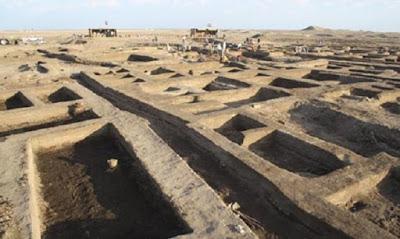 View of the Tel Al-Dafna archaeological site [Credit: Ahram Online]
Dr. Mamdouh Eldamaty, minister of Antiquities has announced, during his visit today to Tell Dafna , the discovery of Greek volcano "San Turin" remains, this volcanic eruption is considered to be the first natural crisis to hit the Mediterranean Sea, the remains were found in Tall Dafna site 11 Km. from west Suez Canal at Al-Qantara, Ismailia Governorate.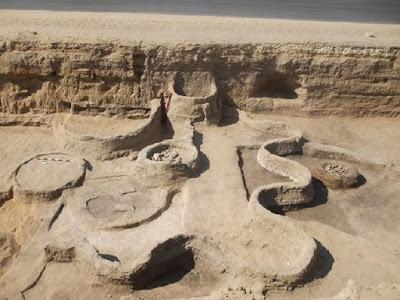 Excavations by Egyptian mission at Tel Al-Dafna archaeological site [Credit: Paul Robinson]
Eldamaty has expressed his high appreciation for the Egyptian Archaeological Expedition working at the site under the authority of the Ministry of Antiquities, the Expedition is headed by Dr. Muhammad Abd Al-Maksoud, its excavations at the site helped in finding many important discoveries which will help in searches and studies on the Pelusium branch of the Nile and the archaeological sites on the Nile banks which are not revealed yet.
From his side Dr. Muhammad Abd El-Maksoud said, the expedition has discovered at the same site, part of a fortified island, surrounded by walls of clay and mud bricks, these walls worked as a barrier to block water to protect the island from flows at the Northwest part of the fortress, which is one of three huge fortresses that were built by King "Psamtik I "at Tell Dafna to protect the eastern entrance of Egypt, one of these fortress was built at Maria to repel the Libyan Attacks, the other one at Elephantine to protect Egypt from the Ethiopians, the third is this one at Tell Dafna, its walls are about 20m thick, with dimensions of 400mx800m, it contains a number of fortified residences with thick walls.
Abd El-Maksoud also added, remains of mastabas, workshops ,and kilns used for melting metals and baking bread were also discovered, in addition to skeletons remains of fishes and crocodiles.
Dr. Mahmoud Afifi said that the excavation project of Tell Dafna site is performed in collaboration between the Ministry of Antiquities and Ministries of Housing and Defense and in cooperation with Sinai construction Authority. The project comes within the framework the project of developing the Archaeological sites at the 30th of June Corridor, and this is considered to be the third phase of the corridor works, as the excavations works were applied in range of 2300 m ,100 m width, and no Archaeological evidence appeared.
He also mentioned, that Tell Dafna site is considered to be one of the five archaeological sites which were chosen at the eastern entrance of Egypt to be developed within the project of Egypt Military History Panorama and the archaeological sites development at Suez Canal Corridor, these sites are, Tell Habwa, Tall Abu-Saify, blusium, and Tall Al-Maskhouta.
Afifi also added that, all the archaeological documentation and measurement works have been done, to preserve and protect the site.