Source - http://www.usatoday.com/story/news/2017/01/20/truth-garbage-new-research-examines-ancient-roman-trash/96815766/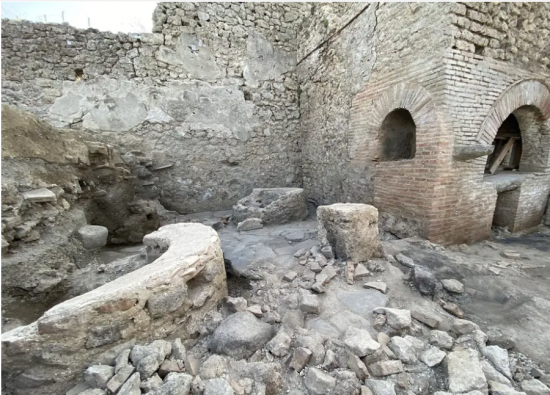 Researchers comb over the ancient Roman containers called amphorae. (Photo: Credit: Laure Marest-Caffey)
Modest farmhouses and swanky country houses alike were entombed by the 79 AD eruption of Vesuvius, which killed an untold number of the 20,000-plus people living in Pompeii and the surrounding area. But the deadly volcanic flows also preserved artifacts with unprecedented fidelity.
The humble objects left behind show that people didn't necessarily go easy on their possessions, even though the articles of everyday life were often purchased rather than homemade.
Take the objects discovered at a farmhouse near Pompeii, where the cooking range was so heaped with ashes that it's clear "they just basically didn't take out the garbage," says Theodore Peña of the University of California, Berkeley. "Like frat boys." Peña leads the project, which is taking a close look at artifacts found during previous excavations.
In a storeroom of the kitchen, shelves held gear that "had the hell beaten out of it," Peña says. There was a bronze bucket full of dents, perhaps where it had banged into the side of the well just outside the farmhouse. There were pots with bits of the rims broken off and a casserole so badly cracked that it was close to falling apart, but people had kept them to use again.
At a complex near Pompeii that seems to have been a wine-bottling facility, there were more than 1,000 amphorae, ceramic vessels that were the shipping containers of their day. Many were patched and waiting to be refilled, presumably with wine, Peña says.
When the researchers delved into street rubbish, they expected to find lots of broken glass, used for perfume bottles and other common items. Instead they found almost none, a sign that even shards of glass were being collected and made into something else.
It's too early to say whether the people of Pompeii were thrifty adherents of recycling. But the indications so far are that "ceramics and other types of objects were being reused, repurposed or at least repaired," Cheung says, in contrast to today's "throwaway society. … If I break a cheap mug, I probably throw it away. I don't even think about repairing it."
The research is "very exciting," says archaeologist Leigh Anne Lieberman, a graduate student at Princeton University who also studies items from the region but was not involved with Peña's research. The analysis, she says, "allows us to ask questions we didn't even know we had."
The analysis also summons the long-gone Romans who once held the same items now being scrutinized nearly 2,000 years later. "Sometimes you look at a pot or lamp and see fingerprints of the person who made the object," Cheung says. "That's a tangible piece of the past that connects you to antiquity."