Aditya Dev
Source - http://timesofindia.indiatimes.com/india/Shah-Jahans-summer-palace-found-near-Taj/articleshow/37609711.cms
In an interesting discovery following excavations carried out by the Archaeological Survey of India recently, remains of a summer palace, presumably a baradari, a pavilion designed to allow free flow of air - have been reportedly found at the centuries-old Mughal-era garden Mehtab Bagh located opposite the Taj Mahal.

The garden was reputedly Shah Jahan's favourite spot which he used to visit to get a view of the Taj at night, hence it's name (Mehtab means moonlight in Urdu).

"The remains of the baradari-like structure have been found just opposite the Taj Mahal which strengthens our belief that the Mughal emperor must have built this place to enjoy the view of the Taj sitting near the bank of river.
The place seems to have sunk beneath the surface either due to floods or because of the presence of hollow space under the structure," said a senior ASI official.
The excavated remains of the walls at the garden complex, situated on the opposite bank of the Taj Mahal in Agra. (PTI photo)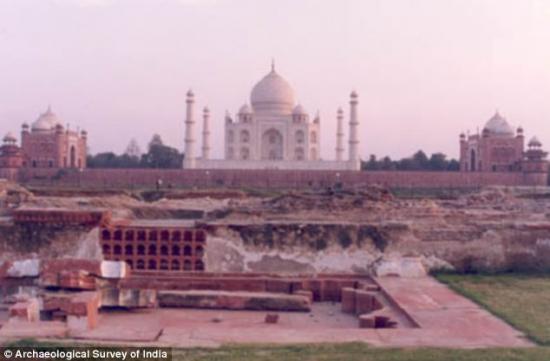 Incidentally, Mehtab Bagh has been associated with the myth of the black Taj which is believed to have been spun by guides to fascinate foreign tourists. According to the story, Shah Jahan wanted to build another Taj in black marble across the Yamuna and connect the two by a bridge. Mehtab Bagh is pointed out by some as the possible site where the black Taj would have come up.
"There has never been any historical evidence to prove the existence of a black Taj," said the official.

During excavation work carried out between 1997 and 1999 at Mehtab Bagh, the ASI had found remains of a huge octagonal tank furnished with 25 fountains, a small central tank and a baradari in the east of the garden. "The present work is going in the south direction of the garden in the straight alignment of the Taj Mahal which makes the discovery an interesting one," added the official.