INSTITUT SUPERIEUR D'ANTHROPOLOGIE
INSTITUTE OF ANTHROPOLOGY
ONLINE COURSES / COURS A DISTANCE
WINTER TERM : JANUARY 2014
REGISTER NOW
ROYAUME UNI –
 Horndean - An ancient settlement more than 2,000 years old has been discovered next to a garden centre – and has been heralded as a major find. Archaeologists excavated a field next to Keydell Nurseries, in Havant Road, Horndean, and found Roman pottery such as Italian amphorae, which were used to store wine and olive oil. The experts believe the fragments may predate the Roman invasion of AD43 and be as old as the 1st century BC. This indicates that the Celtic tribes occupying south Hampshire may have established strong trade links with the Romans well before the Roman army descended on our shores.The diggers discovered V-shaped ditches, which are likely to have been defences. Pits, postholes and pottery fragments were also found.
http://www.portsmouth.co.uk/news/discovered-pottery-in-horndean-sheds-light-on-history-of-the-region-1-5776708
RUSSIE - Staryi Tartas- Archaeologists have unearthed 3,500-year-old skeletal remains of couples buried facing each other and holding hands in Siberia. The extraordinary discovery, which dates from the Bronze Age, was made in Siberia's Staryi Tartas village where archaeologists have studied 600 tombs.Dozens of graves contain couples buried in an embrace. Some of the bodies were buried crouched on the side of the tomb, along with children. Experts speculate a number of hypotheses behind such a burial, one being a situation where the man died and his wife was killed to be buried alongside him"We can fantasise a lot about all this," Professor Molodin, a director of research at the Russian Academy of Sciences, told The Siberian Times.;;"We can allege that husband died and the wife was killed to be interred with him as we see in some Scythian burials, or maybe the grave stood open for some time and they buried the other person or persons later, or maybe it was really simultaneous death," he said. Molodin said that once they establish the kinship between the buried individuals, they would have clearer picture of the burial ritual.;"When we speak about a child and an adult, it looks more natural and understandable. We found the burial a man and a child. What is a degree of their kinship? Are they father and son or....? "The same question arises when we found a woman and a child. It should seem obvious - she is the mother. But it may not be so. She could be an aunt, or not a relative at all." Another professor, Lev Klein of St Petersburg State University, suggests that the buried couples are linked to reincarnation beliefs. Scientists are seeking to unravel the secrets of the mysterious burials in about five to ten years with the help of DNA tests.
http://www.ibtimes.co.uk/3500-year-old-tombs-couples-buried-holding-hands-found-siberia-1430472
TURQUIE –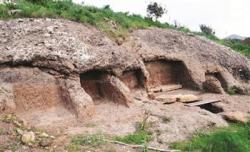 Myndos - The construction of an asphalt road in Bodrum's Gümüşlük district in the western province of Muğla caused negative reactions because the road will pass over three 2,200-year-old tombs from the Hellenistic period in the ancient city of Myndos.  The tombs will be buried under the asphalt road, having received the permission of the General Directorate of Cultural and Natural Heritage. The head of the excavations in the ancient city of Myndos, Professor Mustafa Şahin also gave a strong reaction, saying, "These kinds of tombs exist in this region. Excavations were set to continue here next year. It is impossible to understand such a decision."  The three Hellenistic period tombs were discovered three years ago in the necropolis area of the ancient city of Myndos during excavations carried out for the Bodrum 
http://www.hurriyetdailynews.com/centuries-old-tombs-to-remain-under-road.aspx?pageID=238&nID=60274&NewsCatID=375
TURQUIE –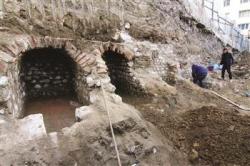 Amasya - At least seven sarcophagi and human bones from the Roman age have been discovered during construction work in the northern province of Amasya. Workers at the site discovered the first Roman sarcophagus during the ground excavation and notified the experts from Amasya Museum. The construction was immediately stopped and a rescue excavation by archeologists started hastily. Archeologists discovered seven sarcophagi, human bones and traces of settlements during the excavation. The findings will reportedly be taken under the protection of a heritage council in nearby Samsun city. Amasya is one of the oldest settlements in Turkey with a history that goes back as early as 5500 BC. The city had remained under Roman and Byzantian rule between 70 BC and 1075.
http://www.hurriyetdailynews.com/roman-sarcophagi-at-construction-site.aspx?pageID=238&nid=60275&NewsCatID=375
PORTUGAL - Coimbra  - Plumbers fixing a water leak in central Portugal discovered what appears to be a cluster of 600-year-old Jewish ritual baths. The discovery was made earlier this year in the city of Coimbra as the plumbers were replacing the piping of an old building in what used to be the Jewish part of the Old City, according to a report Thursday by the Publico daily.The structures appear to be mikvahs, or ritual baths, predating the 14th century which were designed for Jewish women, according to Alarcao.The Jewish presence in Coimbra dates back to at least 1370, and the mikvahs may have been in operation even before that date, Alarcao said. If additional researchers confirm the find, the mikvahs of Coimbra may be considered among the oldest mikvahs ever discovered in Europe. The mikvahs were enclosed in a room whose ceiling featured an ancient fresco of flowers, Publico reported. The fresco was likely painted in the 16th century, before the Portuguese Inquisition sent hundreds of thousands of Spanish Jewish refugees and local Jews into exile or forced them to convert to Christianity.

http://www.jewishpress.com/news/breaking-news/portuguese-plumbers-discover-ancient-mikvahs/2013/12/28/
FRANCE - Airvault - Dans la continuité de réfection des rues, après les rues de La Poste et de la Ferronnerie, le chantier s'est déplacé rue Constant-Balquet où les travaux avaient été interrompus. Les engins avaient alors découvert d'anciennes dalles de sépultures. L'Institut national de recherches archéologiques préventives avait arrêté les interventions pour réaliser des fouilles, constatant la présence d'un vaste cimetière datant des XIIe et XIIIe siècles qui s'étendrait sous toute la place des Promenades jusqu'à la chapelle des Trois Marie.  Le rapport des experts oblige désormais l'entreprise à limiter la profondeur des terrassements de 30 à 50 cm afin de ne pas déstabiliser le sol lors du compactage des matériaux ce qui provoquerait l'effondrement de la chaussée sur les anciennes sépultures.
http://www.lanouvellerepublique.fr/Deux-Sevres/Communes/Airvault/n/Contenus/Articles/2013/12/20/Les-travaux-ralentis-par-un-ancien-cimetiere-1731992