INSTITUT SUPERIEUR D'ANTHROPOLOGIE
INSTITUTE OF ANTHROPOLOGY
ONLINE COURSES / COURS A DISTANCE
FALL TERM : OCTOBER 2013 
REGISTER NOW
CHINE –
 Beidazhao Qiandong - Nearly 300 pieces of cultural relics have been unearthed from a cluster of ancient tombs in north China's Hebei Province. The tombs, located in Beidazhao Qiandong village of Nanhe County, 150 km south of the provincial capital of Shijiazhuang, are believed to be from the middle and late West Han Dynasty (206 B.C.- 24 A.D.) and middle Tang Dynasty (618-907), said archaeologist Li Lianshen. More than 4,000 square meters of land have been combed since the excavation started in May, and archaeologists have discovered 73 tombs altogether, Li said.Zhang Xiaozheng, head of the excavation, said the relics are mostly pottery, chinaware and bronze ware that were used in daily life. Zhang said the tombs are likely to belong to ordinary families judging from their shape and structure. About 10 more tombs are yet to be excavated, he added.
http://www.kaogu.cn/en/detail.asp?ProductID=4473
BULGARIE –
 Nesebar - A team of archaeologists, headed by Associate Professor Aneliya Bozhkova with the National Archaeological Institute with Museum with the Bulgarian Academy of Science, and Petya Kiyashkina with the Ancient Nesebar Museum, discovered a perfectly preserved cellar with amphorae from the V BC, over the last days of the archaeological excavations in the Bulgarian coastal town of Nesebar, the press office of Nesebar Municipality announced. The research is organised under a project of the Ancient Nesebar Museum, financed by the Ministry of Culture, with the participation of experts in archaeology.  The ancient amphorae warehouse was dug in deep into the ground along the northern coast of the peninsula, which preserved it from the encroachment of time and the following cultural layers.  The cellar is 2.60 x 2.50 meters big and belonged to a house, which was destroyed yet in the V BC. Archaeologists found more than 30 untouched amphorae – ceramic vessels for transportation and preservation of wine and olive oil. The amphorae are 0.70-0.80 centimetres tall. They used to be produced in big ancient Greek workshops and transported wine from prominent producers and importers, such as the islands of Chios, Lesbos, Thasos and others.
 http://www.focus-fen.net/index.php?id=n316923 
SUEDE - Uppsala - Archaeologists in Sweden said Thursday they have unearthed the remains of unusually large wooden monuments near a pre-Viking Age burial ground.As archaeologists dug in preparation for a new railway line, they found traces of two rows of wooden pillars in Old Uppsala, an ancient pagan religious center. One stretched about 1,000 yards (1 kilometer) and the other was half as long. Archaeologist Lena Beronius-Jorpeland said the colonnades were likely from the 5th century but their purpose is unclear. She called it Sweden's largest Iron Age construction and said the geometrical structure is unique. "It is a completely straight line and they have dug postholes every 20 feet (6 meters)," she said. "They have had an idea of exactly where this line is going and where to build it. It is a fairly modern way of thinking and we don't have many traces of these sorts of constructions from that time." She said the pillars are believed to have been at least 23 feet (7 meters) high. Bones found in some postholes indicate animals had been sacrificed there. Old Uppsala is known as a center for Norse religion, where believers gathered to sacrifice animals to gods such as Odin and Thor. The colonnades were found near a famous burial site where the three Iron Age kings Aun, Egil and Adils are believed to be buried. Beronius-Jorpeland said written testimonies from medieval times describe the city as a place for large pagan "blood ceremonies" and religious feasts. She said she believes there may be more colonnades in the area and archaeologists will continue to excavate and analyze the findings. 
http://phys.org/news/2013-10-pre-viking-age-monuments-uncovered-sweden.html
ISRAËL – Tel Dor - Students from Haifa University are looking for evidence of two harbors at Tel Dor. The first harbor, used during the Bronze Age and the Iron Age, seems to have been located in Tel Dor's south bay. There, archaeologists have found stone anchors and pottery. In Tel Dor's north bay, they have found pottery from the Persian period along with stone anchors, and artifacts from the Roman and Crusader periods.
http://www.haaretz.com/archaeology/.premium-1.552167
SRI LANKA - Paludeniya - The Director General of Archaeology department Dr. Senarath Dissanayake has stated that there is no truth in the news that the 'Mummy' of Queen Sugala found and there is no any archeological value of the place where there is a quarry in Paludeniya area. He said that there are records that there were antiques in this area but they are not existing now. He further stressed that there is no such evidence to prove that Queen Sugala was in Sri Lanka. "In 2004 there was a quarry in this place.  Then the antiques were there.  But, now they have been destroyed.  Now, there is no historical value in this place" he added. Expressing his ideas he said "I refuse the story about Queen Sugala.  A mummy cannot be  existing in an environment like Sri Lanka.  On the other hand, how it is identified as Queen 
http://lankacnews.com/english/news/the-mummy-of-queen-sugala-is-false/ 
ROYAUME UNI –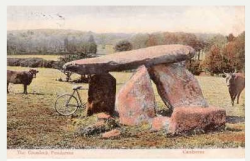 Giant's Quoit - Archaelogists are to finally start work on reconstructing Giant's Quoit, a Stonehenge-like structure built 5,000 years ago by early man living near Camborne.Following three years of fundraising the ancient scheduled monument is being restored with final excavations taking place between October 21 and 31.
http://www.thisiscornwall.co.uk/Archaeologists-reconstruct-5-000-year-old/story-19949038-detail/story.html#axzz2hzbEtiqd

USA –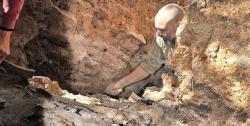 Jacksonville - Jacksonville Fire Department Chief Devin Hull didn't respond with fire engines roaring and sirens wailing when he was called to investigate a fire on Wednesday. After all, the fire had been dead out for about 125 years. But his expertise was needed.Chelsea Rose, staff archaeologist at Southern Oregon University's Laboratory of Anthropology, had asked Hull to explain how some artifacts they found could have been spared in an 1888 house fire in the city's Chinese Quarter. Rose is leading a dig that began Oct. 9 into the site just off Main Street immediately uphill from the La Fiesta Restaurant, 150 S. Oregon St. The archaeologist contacted the fire department after discovering an area chock full of artifacts that are believed to be on the floor of the burned home. At least one wooden beam has survived, Rose said. "I told her how the layering event could have taken place," Hull said of ash and other materials sandwiching together to form layers, which can shut off oxygen. "When that happens, it can preserve part of the wood structure and other materials." It was certainly the oldest fire he has investigated, he said, adding, "It was very interesting." The archaeological team is searching for evidence left from the historic town's Chinese section, which was established in the mid-1850s, making it the oldest urban Chinese quarter in the state, Rose said. "We are literally looking inside the house of a Chinese individual or individuals from 1888," she said as she stood over the archaeological dig into the home. "This is an important time in Jacksonville history," she added. "It is a poorly understood population in history, not only in Jacksonville but in the West. This is such a rare opportunity. ... We are bringing this house back to life." Indeed, in the roughly meter-deep dig they have unearthed numerous items, including an opium can, a porcelain rice bowl, the jawbone of what appears to have been a cow, the bottom of what may be a liquor bottle, a button, Chinese coins, a mini-musket ball, a necklace chain and two bone dice. All of the objects will later be studied in SOU's laborator
http://www.mailtribune.com/apps/pbcs.dll/article?AID=/20131017/NEWS/310170321 
TURQUIE –
 Alacahöyük - A nearly 4,000-year-old kiln, an insulated chamber used as a type of oven, has been found during the excavations works in the ancient city of Alacahöyük in Turkey's northern Anatolian province of Çorum. The kiln dates back to the Bronze Age. The head of the excavations in the ancient city, Professor Aykut Çınaroğlu, said that this year with a team of 20 people, they were working on layers from the Bronze Age as well as the Hittite civilization. He said that they had found very good results, adding, "We found pieces from the Phrygians in the excavation area. We unearthed very beautiful seals. We were expecting a big structure but we found a kiln, which I can call a monumental find when compared to other small pieces. It is nearly 2.5 meter high and some 4,000 years old. It is a magnificent kiln. It is found in this region for the first time. Half of the kiln has so far stayed strong. We will restore it during the next year's works and now it is under protection." Çınaroğlu said that he had also found a necklace in the region. Excavations have been ongoing in Alacahöyük for 106 years. So far 13 percent of the ancient city has been excavated, according to Çınaroğlu, who added, "There are many more areas to be excavated. This is Alacahöyük, we should wait for new surprises every year."
http://www.hurriyetdailynews.com/ancient-kiln-found-in-alacahoyuk-ancient-city.aspx?pageID=238&nID=56310&NewsCatID=375 
INDE –
 Daundia Khera  - The government is digging for treasure after a civic-minded Hindu village sage dreamt that 1,000 tonnes of gold was buried under a ruined palace, and wrote to tell the central bank about it.The state Archaeological Survey of India has sent a team of archaeologists to the village of Daundia Khera in Uttar Pradesh. They are due to start digging on Friday, Praveen Kumar Mishra, the head archaeologist in the state, told Reuters.Yogi Swami Shobhan Sarkar says the gold he dreamt of belonged to a nineteenth-century ruler, Rao Ram Bux Singh. He says he wants it in government hands to help India recover from an economic crisis.The archaeologists plan to dig two 100-square-metre blocks beside the palace. Mishra, however, warned that there was as yet no proof that any treasure lay beneath the soil of Daundia Khera village."We are still searching for the exact location and whether there is any treasure. It is all in the future," he said. "We often just find pottery and metal antiquities, like agricultural tools or kitchen tools."
http://archaeologynewsnetwork.blogspot.fr/2013/10/archaeological-survey-of-india-to.html#.UmA4LVA9JBE