INSTITUT SUPERIEUR D'ANTHROPOLOGIE
INSTITUTE OF ANTHROPOLOGY
ONLINE COURSES / COURS A DISTANCE
FALL TERM : OCTOBER 2013 
REGISTER NOW 
PAKISTAN –
 Multan - The Punjab Auqaf secretary and the Multan commissioner have taken notice of cracks in the wall of the 680-year-old mausoleum of Hazrat Shah Rukn-e-Alam after the archaeology department pointed out that water from two ablution points posed a threat to the historical site. The pre-Mughal era masterpiece can safely be dubbed as the symboland glory of Multan and according to SDO archaeology department Multan Malik Ghulam Muhammad, the east-north portion of the wall near the ablution point (Wuzu Khana) has been affected by salt and cracks in the wall were visible.
http://pakobserver.net/detailnews.asp?id=220750 
TURQUIE –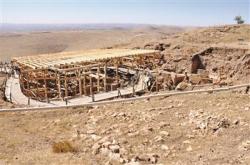 Göbeklitepe - The new excavation area in Şanlıurfa's Göbeklitepe, known as the world's oldest temple, will be covered with a roof for preservation. The head of the excavations, Prof. Klaus Schmidt said they had found new artifacts during their work, which is still continuing, and their work focuses on the area where the preservation roof will be constructed. 
He said they had found a broken piece of a human sculpture during excavations in the fall, adding, "We found it in a place very close to the surface. This is why it was ruined." 
Schimdt said a team of 15 people were working in the excavation area as well as 30 people from the Örencik village. He said they would continue working in Göbeklitepe until the first week of the next month.
http://www.hurriyetdailynews.com/roof-to-preserve-gobeklitepe-excavation-area-.aspx?pageID=238&nID=56088&NewsCatID=375
USA –
 Boston - But New Hampshire has ancient history, too, when you consider Native Americans, and it has some history not quite that old, but still significant and equally interesting. One of the most important such places is the site of Temple Glassworks. Founded in 1780, it was the first glass-making company north of Boston. The company was founded by Boston entrepreneur Robert Hewes. It lasted two years, and not a great deal is known about it. When the site was abandoned, the trees grew back, and it was largely forgotten by everybody but a few local people. There were stories, of course, some exaggerated and perhaps fanciful, and many families had pieces of glass from the site.On a recent perfect September Saturday, the Historical Society invited the public to the newly protected site and to listen to Starbuck talk about the history, his adventures during the four years of excavations and to dispel a few of the myths that had grown up around it. In spite of the research, he said, a great deal isn't known and probably never will be. About 40 people made the trek up Kidder Mountain to look at the collapsing stone walls that had once supported the glass house, furnace and ovens. They looked at the foundations of workers' cabins and peered into what had been the well, and some tried their hand at digging, sifting the excavated soil in wire screens looking for glass shards and maybe an old button. The site is one of the few early industrial sites available for excavation, Starbuck said.The glassblowers were probably German immigrants, but not the Hessian deserters from the Revolutionary War Battle of Saratoga, as claimed by legend. Hewes wrote that he had glassmakers working for him in Boston at his slaughterhouse and tannery. Hewes dabbled in many occupations. The glasshouse burned and was rebuilt. It was at least 69 feet by 67 feet, and surrounded the furnace and crucible where the glass was made. All that remains intact is part of the north wall. The site is now protected, tightly fenced and secured.
http://www.nashuatelegraph.com/neighbors/1018512-478/temple-glassworks-one-of-nhs-archaeological-treasures.html 
ROYAUME UNI - Clarkly Hill - - A site that is an archaeological Moray "gold mine" will soon make way for a plantation of Christmas trees.A bronze ring, possibly as much as 2,500 years old, and bronze and iron craft from a Pictish settlement were revealed by the latest 'Moray Archaeology For All' dig on farmland overlooking Burghead. Evidence was also revealed of a potential 'mini-Stonehenge' stone circle near the Moray coast, according to Iron Age and Roman curator at National Museums Scotland, Dr Fraser Hunter. Dr Hunter, who also led excavations at Birnie for more than a decade, said that Clarkly Hill was a place where powerful people had lived. "What we have here is a really fascinating site and a long story which dates right back to the first people coming to Moray," he revealed. "But most of what we are looking at here is from the Iron Age and the Pictish period." He explained how evidence of a medieval settlement on the hill had been beautifully preserved by a huge sandstorm which swamped Moray in the 17th Century, saving it from the destructive effects of modern ploughing."We have got at least two separate settlements," said Dr Hunter. "There is an Iron Age settlement where folk are living in big roundhouses, and what we think is a Pictish or early medieval settlement, where we are seeing much smaller buildings. "The big roundhouses are on a site similar to the one we saw at Birnie – a big power centre where the head honchos of the area lived. "It's where they have got lots of craft skills; they are making iron and casting bronze, and they are in contact with the Roman world. It was the kind of place where powerful people stayed." The uncovering of a clay shield for a bellows nozzle, for example, revealed an area which was once a workshop for craftsmen working in bronze or iron, who would have used the shield to stop sparks which could set light to other parts of the building. "We were finding new evidence all the time, so the story we have at the end of the dig is different from what we started with," Dr Hunter said."For example, we have what we think are traces of an early prehistoric monument, perhaps a stone circle in the field."
http://www.northern-scot.co.uk/News/Moray-gold-mine-yields-its-treasure-11102013.htm
ROYAUME UNI  - Amesbury -A group of archaeologists is undertaking a major dig in Wiltshire, which it is hoped could explain why Stonehenge was built where it was. The team, which comprises of leading experts in the Mesolithic period, also hopes to confirm Amesbury as the oldest continuous settlement in the UK. The site already boasts the biggest collection of flints and cooked animal bones in north-western Europe. The dig in Amesbury will run until 25 October. Andy Rhind-Tutt from Amesbury Museum said Amesbury pre-dated Stonehenge by as much 5,000 years, and could "go a long way" to explaining why Stonehenge is where it is. "No-one would have built Stonehenge without there being something really special about the area. "There must have been something there beforehand and Amesbury may well be it - [it could be] one of the greatest Mesolithic sites in the country." Mr Rhind-Tutt said the team would also be looking to "find evidence of settlement for 10,000 BC". "In previous excavations, they've found evidence of settlement up to 7,596 BC - a boar's tusk - but we're not at the bottom of the trench yet. "Thatcham near Newbury [in Berkshire] is proving to be the oldest continuous settlement in the UK, but if Amesbury has older evidence this time, then it will be instead. "At the moment, it is only 104 years short of being the oldest." Well-preserved remains of a Mesolithic settlement dating from 7,700 BC have previously been found at Thatcham, which is 41 miles (66km) from Amesbury.